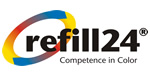 Refill24 - Printer Cartridge Refill Franchise
The Refill24 franchise system makes it easier to get started in self-employment
Finance requirements

Franchise Fee: €8,950
Minimum Investment: €8,950

Available areas

Franchise opportunities available in the UK and France
Profile

Get started in self-employment with the Refill24 franchise . Our franchise system ensures you ha ve the edge in terms of expertise

From the sparks of an idea through a viable business plan right up to a successful business, the path is often a long and rocky one. Those starting up their own business know all about this problem. Anybody working together with a franchisor reduces his risk and preserves his frustration tolerance levels.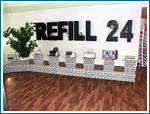 The Refill24 franchise system makes it easier to get started in self-employment: when Refill24 opened its first ink station in Aachen in 2003, the creators had no idea that their planned franchise system would secure enormous growth potential for their ink stations. The idea for this service was clearly long overdue. Anybody who has their ink cartridges refilled at an ink station can save costs of up to 70% compared to purchasing new cartridges. The demand was so great that in only two years the company was able to establish over 650 ink stations as franchise businesses throughout Europe, and is therefore now the market leader. Since 2005 Refill24 has also been expanding in the USA. And there is no end in sight to the success story. This is why Refill24 is now taking on new franchisees around the world.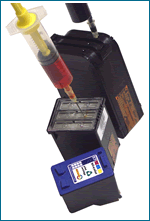 For the relatively low start-up fee of 8,950 euro the franchisee receives a basic equipment package with which to equip his ink station to begin with. This contains inks, refill sets for direct sales, compatible and also refilled cartridges, and working materials such as syringes, needles and an ultrasonic heating device for cleaning the cartridges. With the one-off franchise fee the costs for the installation of a merchandise information system, a coaching session on site in the ink station and a six-day training session in Herzogenrath are also covered. Here, our new franchisees will learn all about inks, toners, printers and the correct way to fill ink and toner cartridges.

On average, Refill24 franchisees achieve a return on investment after only one year. Further advantages compared to other franchisors: There is room for Refill24 ink stations in even the smallest shops and they do not put too much strain on your budget with high rental costs. Capital commitment due to investment in equipment or materials remains manageable. So Refill24 ink stations are ideal for people who want to venture into self-employment with minimal risk and without a great deal of borrowed capital. Getting started in self-employment should not fail on grounds of money, says Thomas Gottsbacher, the managing director at Refill24 GmbH .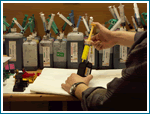 Now, Refill24 also fill laser printer cartridges and the tanks of plotters and large format printers. With franchisees technical expertise, product knowledge and awareness of the latest trends in plotter technology are taken for granted. In the companys central office in Herzogenrath near Aachen, they have their own rooms for holding training sessions so that the franchisees are constantly kept up-to-date in terms of technology to ensure that they have the competitive edge in terms of expertise.