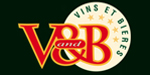 V&B - Caviste, Biere et Vin Franchise
Le concept VandB est une concept novateur qui allie vente et dégustation de vin, de biere internationale, de whisky et autres spiriteux.
Profile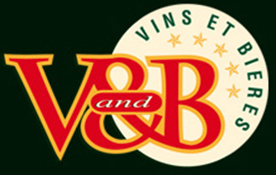 Un concept novateur et unique
L'after-work

L'after-work est un concept anglo-saxon qui est devenu en quelques années un vrai phénomène de mode. V and B s'inscrit dans cette tendance en proposant un lieu de détente après le travail et un point de rencontres avant de démarrer la soirée

Le plaisir de la découverte

V and B propose à ses clients une large gamme de produits : pas moins de 1500 références sont disponibles en magasins. Ainsi, tous les amateurs, qu'ils soient de vins, de bières, de whiskies ou autres spiritueux s'y retrouvent pour un plaisir partagé. La dégustation est également à l'honneur puisque les clients peuvent découvrir une nouvelle saveur à chaque fois
50% cave, 50% bar, 100% V and B

V and B est un espace atypique puisqu'on distingue la partie magasin avec les caves à bières et à vins, les whiskies, les spiritueux, les coffrets et les accessoires de la partie dégustation avec le bar. Les clients passent ainsi de la cave au bar et du bar à la cave pour acheter ce qu'ils viennent de découvrir, l'offrir à leurs proches ou encore trouver des idées cadeaux. Il n'y a ni table ni chaise mais des tonneaux pour favoriser le brassage entre les clients. Une ambiance chaleureuse et conviviale est ainsi créée et elle est renforcée par les nombreuses animations proposées : concerts, soirées thématiques, retransmissions sportives, fête de la bière…

Le succès du concept

Né de l'association entre un passionné de vin et un spécialiste de la bière, le concept V and B est novateur et unique. Le premier magasin ouvre ses portes en 2001 à Château-Gontier (Mayenne, 53) et remporte d'emblée un franc succès. Fin 2009, le réseau compte 23 magasins répartis sur une grande moitié Ouest.
 
Le concept V and B est le seul à allier vin et bière ainsi que cave et bar dans un même lieu
Devenez franchisé!
Les qualités requises pour l'adhésion au réseau sont essentiellement liées aux capacités commerciales et de gestion. V and B recherche également des candidats dynamiques, organisés, motivés, à l'aise dans le management d'équipe, communicatif et possédant la fibre commerciale. Ils doivent être capables de s'investir sur le long terme pour assurer leur réussite.
Un accompagnement permanent
V and B accompagne ses franchisés avant, pendant et après leur ouverture.

Une formation produit de 5 semaines minimum permettra aux franchisés de lancer leur activité en toute autonomie.

A l'occasion de l'ouverture des nouveaux points de vente, V and B aide à la mise en place d'une campagne de communication. Affiches, flyers, tee-shirts, promotions… : de nombreux outils pourront être utilisés pour créer l'événement.

Par la suite, l'animateur réseau rend visite aux franchisés. Il est là pour répondre à tous leurs questions, les aider dans la gestion de leur point de vente et les informer des nouveautés. Des réunions sont organisées tout au long de l'année, l'occasion pour tous d'échanger et de partager dans un contexte convivial.
Condition
Durée : 5 ans

Droit d'entrée : 20 000 € en 2010 (formation d'un mois incluse)

Zone d'exclusivité

Redevance réseau : 1 % du CA HT

Redevance publicitaire : 1 % du CA HT
Les franchisés peuvent compter sur V and B pour les accompagner dans toutes leurs démarches bancaires et notamment pour l'élaboration de leur plan de financement. Ils pourront également s'appuyer sur des partenaires solides qui les aideront à lancer leur projet.